Frequently asked questions
What are your packages?
---
We offer a "A La Carte" style package where you can select only the items you are intrested. The base is the "Cinematic Wedding Film" which is a 6-10 minute wedding video that shows off your entire day. You can then add a Full Ceremony Edit, Main Moments Edit, Interviews, Social Media post, and more. For more information on our packages, simply fill out the questions on the "Inquire" page and we can get started!
---
What is your Videography Process?
---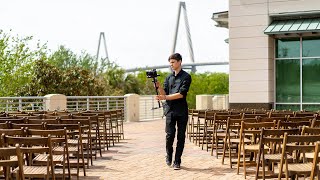 We made a video to help answer that question!
---
What gear do you use?
---
We both film on the Sony A7iii with a full set of professional lenses. We use gimbles for smooth camera movements, mulitple professional micrphones for high qulaity audio, drones, and lights. For the fellow gear heads, here is some of the equipment we use. Cameras Sony a7iii x2, Canon 80d, Lenses15mm f/2 Laowa, 28-75mm f/2.8 Tameron, 55mm f/1.8 Zeiss, 85mm f/1.4 Sigma, 70-200mm f/4 Sony. 10-18mm f/4 Canon, 18-135mm f/4 Canon, 75mm-300mm f/5.6 Microphones H4n, Sennhieser AVX Me2, Rode NTG3, Rode Videomic Pro +, Tascam Dr-10L Lights Aperture 120d, LED Pannel x2, Small LED Pannel x2, 1 PC Came-TV Stablizers Ronin S, Glidecam HD 2000, Tripod x3, CStand x2, Lightstand x2, Cheetah Stand Drone Mavic Air Accessories Small Rig Cage, Feelworld Monitor, Macro Extenion tubes, Underwater Housing, Trilens, Gaf Tape.
---
Do you travel?
---
Yes! While we are located in Columbia, South Carolina, we are happy to travel wherever you want to get married! Travel fee's vary given the location.
---
Do you use a drone?
---
Yes! Ben is a FAA licensed drone pilot, meaning that we can legally capture beautiful shots of your venue whenver we can. We always bring our drone along with multiple batteires and we do not charge extra for drone footage. Depending on locations (proximity to an airport/military base) and weather constraints, we can't guarentee we will be able to use it but we definitley will whenver we can!
---
---